CABLING SERVICES


Your cable network serves as a highway system for distributing data and voice information. It's important to use certified cabling professionals with LAN/WAN experience to design and maintain your cabling infrastructure, ensuring effective connections and proper overall network performance.
NesTECH offers complete cabling/wiring solutions to help you build your Cabling Infrastructure best suited for your business needs.
Our cabling engineers will listen to what you want to accomplish and offer cabling infrastructure based on the assessment of your specific needs. Our Cabling Engineers are highly skilled, knowledgeable as well as certified. We accomplish neat, clean and structured project completion with our systematic and proper cabling procedures.
NesTECH offers on-site technicians for various moves, adds and changes needed for day-to-day operations.
Features of the Cable Installations Services: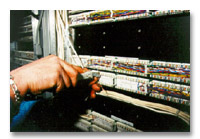 Project Analysis and Planning

Twisted Pair and Coaxial Cable Installation;

Fiber Optic Cable installation;

Installation (vertical or horizontal)
Termination (ST – SC - MT-RJ)
Inner-duct
Splicing
Certification
Accessories (wall panels, patch cords, etc)

Data and Voice Integration

Carrier Circuit Analysis

Voice Mail and PBX Installation and Support
Testing/Certification of existing cable plants
Central closet wire management
T1/T3 cables
Adds/Moves/Changes to existing wiring
We also install all hardware for LAN-room/Data-Center design, including:
Ladder Racks

Data Racks

Server Cabinets