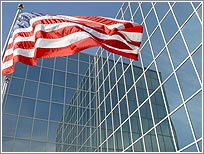 NesTECH ADS is designed to provide its customers with Data Center, Complete Managed/Coo-Managed, Coo-Location Services and Hosting Solutions.
NesTECH has the technical crew, state of the art equipment, environment and relationships to provide businesses the mission and business-critical technology resources they need, when they need, at a low cost. NesTECH endeavors to bring its customers the highest quality professional hosting and management services possible. We see our customers not just as clients, but as valued partners.
A Network You Can Depend On
Our Data Network was engineered for high performance and redundancy. It has rich fiber connections to all major carriers and scalable bandwidth capacity from OC3 to OC192.
Our network is built without a single point of failure. Every device and system has a backup. Constant monitoring ensures that any serious problem receives immediate attention. We realize that down time is not an option. For that reason we have invested heavily in hardware and facilities to ensure a network uptime of at least 99.999 percent.
The Structure & Network Architecture
Our Network is designed for high availability, redundancy, scalability, simplicity, and security. Any extraneous functionality is removed to simplify the Network and remove possible security threats. Traffic coming in and out of our network, flow through fiber-optic cables into our Networks from Tier 1 providers.
Most of our Network Equipments are clustered together so that one can take over the functions of the other in case of a hardware failure. Those Network components are backed up by several failover components and they are all interchangeable. The load balancers prevent any given component from becoming overworked.
Full Protection
The data center utilizes uninterruptible power supplies, the physical space is protected with a non-destructive fire suppression system, and climate controlled with redundant cooling/heating systems. We're prepared to deal with power failures in such that we have multiple diesel-fuel backup generators to keep our network running during power outages, and we use uninterruptible power supplies to keep things going smoothly during more minor interruptions. We also use state-of-the-art smoke-detection and fire-suppression systems.
Multi-level security
Our thorough on-site security includes Security Guards, Motion Sensors, Video Surveillance and Security Breach Alarms to provide only secured physical access to our Datacenter. Only authorized access is allowed in this facility. We also have security experts working full-time to monitor, detect and eliminate digital intrusions, a real-time Monitoring of every aspect of the network